| | | |
| --- | --- | --- |
| | | |
| | Who knows what will hatch next? | |
Creatures and Creatures 2 (C) by Cyberlife.
Internet Explorer (C) by Microsoft.
All sites, names, pictures, files, and other references are owned by their respective owners.
This site supports Fair Treatment of Norns, Ettins, and Grendels (C) 2000 by CptSiskoX - click here for information on how to join.

Site Navigation:
Click here to return to my Homepage.
Click here to go to the Download Area.
Click here to enter the Creatures Chatroom Page.
Click here to see the Updates Page.
All names, references, graphics, files, programs and references are copyrights of their respective parties. No infringment is intended.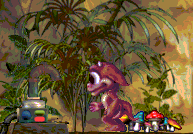 TipToe in Creatures 1 (left) and in Creatures 2 (right).
(C) 2000 CptSiskoX@Yahoo.com